Industry's First Antibacterial Wig Spray
Let's face it, there is so much time we can go without wearing wigs. It's super convenient and serves as a great protective style. There will be a time in the summer when you're not fazed by the heat and pull your new wig look off the mannequin. When wearing your favorite wig, the most common practice is to make sure the wig cap matches your skin tone. The overall goal is to make sure the wig looks like it came from your natural hair.
Instead of concocting your own natural color, using makeup that's messy and unnatural, or settling for a color that is almost, but not your exact shade, Wigstensions is helping you out majorly. They have created a one-of-a-kind wig spray that tints the color of the wig to match your natural color. There are so many other benefits to using this wig spray, and after we're through, you'll be looking for beauty supply stores to purchase this product!
Water-Free
The biggest worry about using tint spray is if it rains or you're sweating, the tint color will run down your face, which is super embarrassing! No worries with Wigstensions on this issue. The dye in this product does not run when interacting with any moisture. You're safe to wear this in the summer to the beach or even to work out with.
Antibacterial
In humid areas or the summer's hot weather, lots of sweat results in itching and discomfort. In this case, the Wigstensions color tint spray has an antibacterial function to remove bacteria or odors. Sis, this means your wig will always be clean even if you're sweating!
More than 160 colors
The tint colors are available in three different shades: Light, Medium, and Dark. With each spray, the color accumulates so that you can mix and match. You can spray three different colors to create more than 160 shades. You can also dry the spray with a hair dryer, which is faster, or leave the spray to air dry. Also, if you're worried about the spray staining, don't! This spray quickly and safely stains the hair color without fading into the cap.
Beige: Light Shade. Tan and caramel tint
Golden: Medium Shade. Brown tones of rich brown and red strains
Mocha: Dark Shade. Dark chocolate tone. Dim to cool undertones.
Wigstenstions' lace color tint spray is perfect for all ladies wearing lace wigs, lace front wig, lace frontal, etc. to fit your skin tone naturally and adequately protect your natural hair. Request this wig tint spray at your local beauty supply store!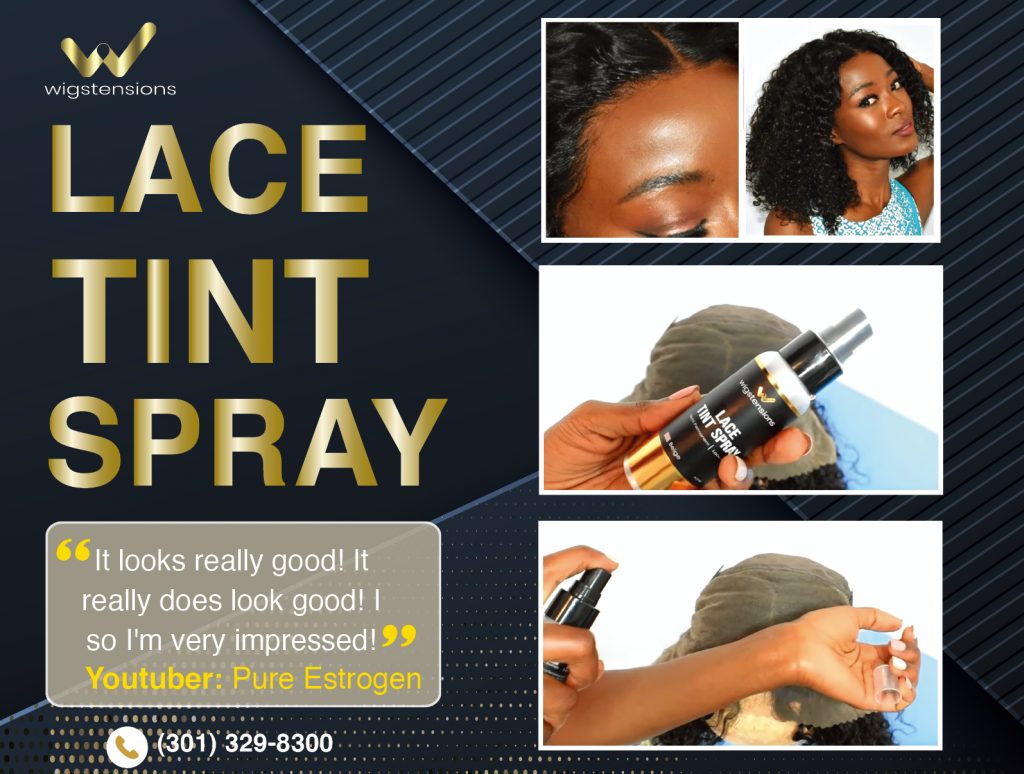 About Post Author